Prices and Booking Information
Holidays at Monnington House can be booked from Monday to Monday or Friday to Friday. 2, 3 or 4 night weekends and mid week breaks are also available.
Prices are available if you look on the availability calendar and click on your preferred arrival date and the number of nights you wish to stay. Alternatively please ​contact us on the form or telephone us. We always respond by email within 24 hours.
Sleeps up to 18
Main House (sleeps 12) and adjoining Annexe (sleeps 6)
7 night week from £3600
Short breaks from £2600
During off peak times and midweek  the Main House (sleeps 12) can be taken:
7 night week from £2800
Short breaks from £1900
Check in time is 4.00 pm
Check out time is 9.45 am for the house except for a 2 night weekend when check out time is up to 5.00 pm on Sunday
£750 cautionary deposit is payable when booking Monnington House
£400 cautionary deposit is payable when booking the Cider Mill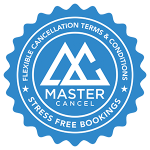 Free Cancellation
Included in all new bookings from 1 August 2020
This means you can cancel between 60 days and 2 days before your arrival date and you will receive a full refund of the rental costs you have paid.
Availability and Booking
Check availability and book online below, or contact us for more information.
Your widget will appear here.