Catering and Eating Out in Herefordshire and the Wye Valley
Whether you are eating out or using our outside catering, the produce in Herefordshire is always delicious and fresh. The quality is superb. Herefordshire and Wye Valley are well served by farmers markets and farm shops.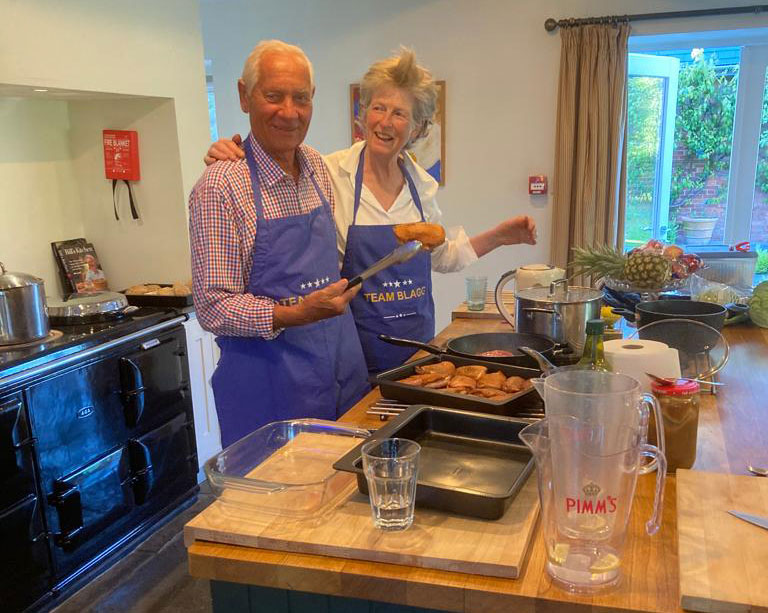 Outside Catering
---
We have a fabulous local caterer for you at Monnington House (minimum 10 people). They have huge experience of preparing meals here and are familiar with the kitchen and all the equipment. They provide a variety of options for you, from a pre-prepared supper for you to heat up, to a finger buffet, to a fully catered, waitressed, washed up formal dinner, the choice is yours.
Prices depend on what you require and the chosen ingredients, approximately £40 a head would be average for the full dinner party experience. Regrettably we only allow these authorised chefs and catering services on site as they are both known to us and familiar with the facilities.​
Emily Rose Cakes
Celebratory cakes can be pre ordered and delivered.
Please note we do not permit caterers who are not recognised by us to work on the property. 
---
Self-Catering
---
Oakchurch Farm Shop
This superb farm shop is 1.8 miles from Monnington House.   It is impressive and has maintained a fantastic COVID 19 policy  throughout the pandemic.   It sells local meats, vegetables and fruits plus wines, beers, ciders, cakes, biscuits and bread.   It has a great selection of ready made chicken pies, lasagnes, treacle tarts.    It will make a difference to your stay!
---
Pubs and cafés (within 20 minutes drive)
---
The Stagg at Titley
Has a Michelin Star and is well worth a visit if you love your food or have a celebration planned.   You can eat in the bar, restaurant or garden (weather permitting).
www.thestagg.co.uk
The Red Lion at Bredwardine​
Situated on the banks of the RIver Wye this small hotel provides home cooked food and local produce.  It has 8 miles of fishing available by arrangement. Many guests walk from Monnington House/Cider Mill along the magnificent Monnington Walk up to the scar and then along to Bredwardine Bridge and  up to the pub.    You will be beside the River Wye for part of the way.    It takes a good hour and is very enjoyable.
www.redlion-hotel.com
The Three Tunnes Hay on Wye​
Serves a fine selection of local beers, ales and wines and has an Italian inspired menu.   Enjoy in the winter  by a crackling fire  or in the summer on a sun soaked terrace.
www.three-tuns.com
The Bull's Head
Bull's Head is a traditional drovers inn – a place to eat, drink and sleep. Set at the foot of the Black Hill on the border of England and Wales, serving seasonal food in a relaxed and welcoming setting.
www.wildbynaturellp.com/the-bulls-head-inn
The Kilpeck Inn HR2 9DN
This pub has just been awarded 'One of Britains best local restaurants'.  Well worth a visit if you enjoy your food.
http://www.kilpeckinn.com​
Café at All Saints Hereford
This is a favourite of mine.   Pop into this  extraordinarily lovely space for socially distanced dining: calm, spacious and airy.​  Even better when combined with a visit to the Mappa Mundi in Hereford Cathedral.