Monnington House Location
Monnington House, Monnington On Wye, Hereford HR4 7N
Monnington House and The Cider Mill offer 5 star, luxury self catering for up to 24 guests. Ideal for large groups and special occasions.
We are perfectly situated in the heart of Herefordshire, with easy access to the Wye Valley.  We regularly receive guests from all over the UK thanks to our convenient, central location.  We are close to both the M5 and M50 motorways.
The exceptional surroundings of Monnington House always interest our guests – situated down a tranquil lane, encompassed by acres of cider orchards, you find this beautiful house in a rural situation on the edge of a family farm in the Wye Valley.
Five local market towns are within easy reach. Monnington House is an ideal place to browse or seek specialist products and goods. Hereford (8 miles) offers culture with its magnificent Cathedral and treasured Mappa Mundi. Hay on Wye (12 miles) hosts the Literary Festival in May each year. Leominster (20 miles) is full of antique shops. Ledbury (24 miles) has a wealth of independent shops and retailers and Ross on Wye (25 miles) hosts specialist food shops… You can take your pick!
---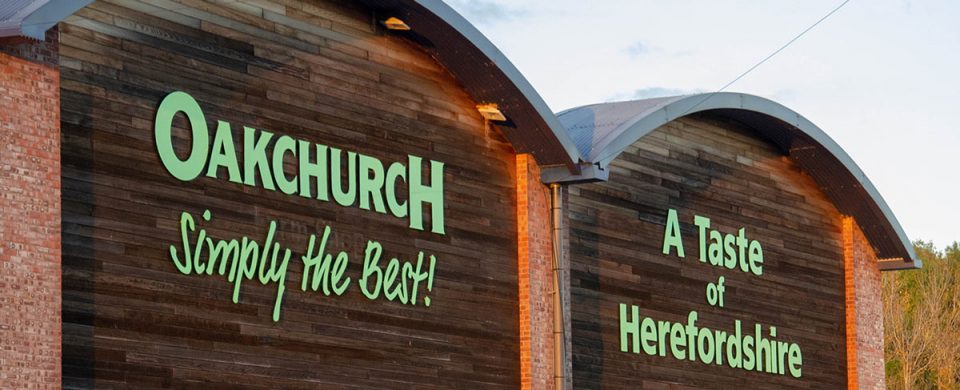 Local Herefordshire Produce
The region is rich in local produce which is of the highest quality. Herefordshire is renowned for its apple juice, cider, beer and beef as well as cheese and ice cream. There are a number of nearby farmers selling produce straight from the farm as well as farmers' markets. Oakchurch Farmshop is located just 1.8 miles away from Monnington House and sells wonderful local produce and garden products.
---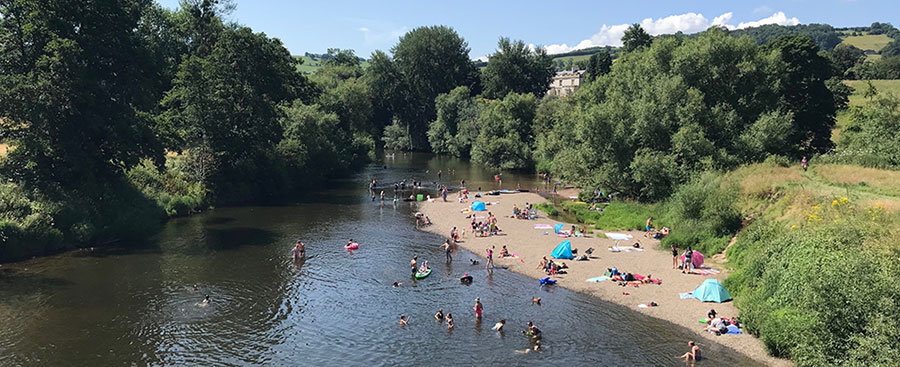 Easy Access To The Wye Valley
You can venture straight from the back door at Monnington House and into the the stunning Wye Valley. Why not walk part of The Wye Valley Walk – a perfect mix of hill and river walking or wander through the beautiful cider orchards, which are stunning particularly during blossom time. A march down the magnificent Monnington Walk will uplift you and the birdlife is exceptional. A detailed OS Explorer Map available in the house gives full details of all the walks available.​
Wild swimming, canoeing and paddle boarding are all accessible nearby and  hugely popular.  Experts are available to help you enjoy these pursuits.  Fishing can be arranged locally.
---
Church Of St Marys, Monnington Walk
Make sure to call into the Church of St Marys, which is just on Monnington Walk.   The Reverend Robert Francis Kilvert is said to have preached from this Church whilst he was writing Kilverts Diaries, an enchanting portrait of rural Britain in the 19th century.
---
Eating Out Near Monnington House
There are a number of places to eat out close to Monnington House. Or you might prefer to consider having caterers deliver straight to Monnington House.
The Red Lion at Bredwardine is situated close to the River Wye.   Guests can walk there with their dogs down the Wye Valley Walk and stopping at Bredwardine Bridge for the dogs to have a swim in the river before walking up the hill to the pub for lunch.
The Three Tunnes in Hay on Wye ​has real ales and local produced food.   A good spot to head for having browsed around Hay on Wye or walked up Hay Bluff in the Black Mountains.
If you wish to venture further a field then visit The Stagg at Titley which has one Michelin star or go the Bulls Head at Craswell which is a rural and unique dining pub in the Black Mountains.
---
Gardens Local To Monnington House
There are a number of worthy gardens to visit in Herefordshire. Hampton Court Castle was rescued from neglect in 1994 and its gardens have been revived and transformed. There is an ornamental kitchen garden and 150 year old wisteria arch and a fabulous maze for children to get lost in.
Brobury Gardens is set on the banks of the River Wye by Bredwardine Bridge.   It has a garden for all seasons.   You can soak up the peace and beauty of the terraced gardens beside the Wye.    You can walk here (40 minutes) and enjoy the gardens and their cafe.
The Weir Garden in Swainshill, Hereford is a ten acre National Trust site closer to home and has unusual gardens with sweeping views down the River Wye. It has fantastic spring bulbs followed by beautiful autumn colour.
---
Activities Local To Monnington House
For those seeking adrenalin activities there is karting at Weobley, paint-balling in Hereford, clay pigeon shooting and quad biking can be found at Kingsland.
Discover the full range of activities local to Monnington House.
Finally If you just want to sit back and relax and enjoy the wonders of Herefordshire then please do! Monnington House is perfect for escaping the hustle and bustle of everyday and offers a fantastic retreat for up to 18 guests.